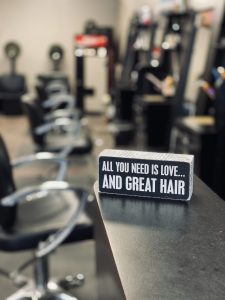 COLOR . . . . . starting at $85
Sensational color for your hair that looks amazing. Lasting and luxurious. You will receive the look you want… whether it be natural vivid brunette, cool or warm blonde, fiery vibrant red or a more natural gray look.
HIGHLIGHT. . . . . starting at $95 ($10 for each additional color)
Highlights that look natural. Glowing and gorgeous. Choose from honey, caramel, and shades in between.
TWO COLOR PROCESS . . . . . starts at $160
Highlights that excite. Vibrant and Vivacious. We offer all the colors of the rainbow! If you want daring fun streaks of intense color, our stylists will help you select the right shade for you and your lifestyle.
BAYALAGE . . . . . starts at $150
A unique highlighting technique, that is customized based on the clients hair. This technique offers a natural look.
PERM. . . . . starts at $85
They aren't just for your grandmother anymore! Anyone who desires more body in her or his hair would benefit from a perm. Our perm services range from spiral or reconstructive curls as well as body waves and the stereotypical tight curls.
FULL KERATIN. . . . . starting at $195
Rebuilds, restores and rejuvenates all types of hair. It will strengthen the hair shaft and make your hair more resilient. Results typically lasts 4 to 6 months. No more bad hair days with a keratin treatment.
MINI KERATINKERATIN. . . . . $55
A "mini" treatment in that it offers the same beautiful hair with a 20 minute processing time, and at significantly less cost than conventional treatments. The treatment typically lasts 30 days
LADIES HAIRCUT . . . . . $40
Our style technician will define, shape, contour and architect a cut and style for an extreme transformation. Reveal the new you!
MEN'S HAIRCUT HAIRCUT. . . . . $25
A cut that's right for you. No less than perfect.
GIRLS HAIRCUT(14-18 yrs) . . . . . $30
A style designed for the new you. Our style technician will show you how dazzling your look can be. Set the trend – don't follow it
YOUTH HAIRCUT(0-13 yrs) . . . . . $20